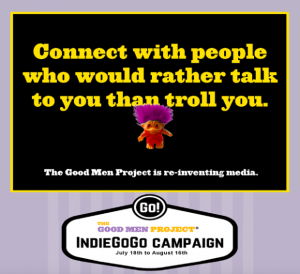 As many of you probably know, I have been a frequent contributor to the Good Men Project for the past two and half years.
After my original Huffington Post piece went viral on social media, one of the editors reached out to me asking if they could republish it on GMP and a relationship was born.
About a year ago I decided to become a weekly columnist and developed a wonderful working relationship with my editor. Over time I began getting involved with their social interest groups (SIG) and started participating in many of their daily calls.
The Good Men Project is trying to reinvent media by creating "participatory media" in which you can join one of their many daily phone calls with like-minded people from around the world and discuss a topic together, without the worry of trolls trying to derail the conversation.
I have made the decision to become an editor and a leader with GMP!
I will be leading a Social Interest Group: "Living with an Invisible Disability" alongside my current editor, Lisa Blacker.  Starting in the next month or so we will be having a weekly phone call along with a Facebook group for anyone who is interested in joining in on the conversation that the other media isn't having.
You can join our Facebook group to be the first to know when we announce our first call. Anyone who feels compelled to talk about this growing epidemic is welcome to join. As you know, traumatic brain injury is near and dear to my heart, and I hope to see many of my fellow TBI survivors join in, as well as anyone suffering with Lyme's, Fibromyalgia, chronic pain, chronic fatigue, and mental illness, just to name a few.
Additionally, I will be taking on an editor role. What this means for YOU is that if you are interested in sharing your story with a larger audience, you can submit your contributions directly to me via the submittable platform. 
GMP is launching an Indiegogo campaign in an effort to raise $100,000 to take their media platform to the next level. The majority of funding will be used to create more Social Interest Groups and Weekly Calls, so there will be more calls about a greater variety of topics every day of the week. The calls and the conversations that YOU want to have. If they can raise just $25,000 they will create 20 total groups. $50,000 they will create 40 groups. And with $100,000 will mean they can create 100 groups over the next year.
A contribution of just $5 will help grow their platform. For $25 you can participate in one SIG for the entire year, or at $50 you can join ALL the calls for an entire year — and believe me — you'll WANT to be a part of them!! The conversations we are having are simply amazing!
I am thrilled to be a part of this evolving community.  I look forward to creating real change in the world with YOU!
ACTION ITEMS:
1. Join my social interest group on FB: https://www.facebook.com/groups/1898613543692755/
2. Consider contributing to the GMP Indiegogo campaign: http://bit.ly/2uyHjKA
3. Submit your writing:  http://GoodMenProject.Submittable.com/submit
4. Be a part of the conversation!!
Amy Zellmer is an award-winning author, speaker, and advocate of traumatic brain injury (TBI). She is a frequent contributor to the Huffington Post, and has created a private Facebook group for brain injury survivors and also produces a  podcast series. She sits on the Brain Injury Advisory Council (BIAC) through the Brain Injury Association of America's and is involved with the Minnesota Brain Injury Alliance. She travels the country with her Yorkie, Pixxie, to help raise awareness about this silent and invisible injury that affects over 2.5 million Americans each year.