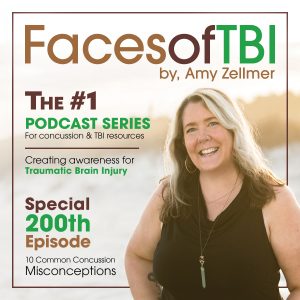 In celebration of the 200th episode of the "Faces of TBI" podcast, host Amy Zellmer discusses the 10 most common misconceptions about concussions. She offers explanations about each misconception and provides feedback on how to utilize the proper information. Amy also discusses her own experience with TBIs and where her journey has taken her over the years.
Points of Interest:

(00:18) Celebrating the 200th episode with 10 common concussion misconceptions
(2:52) First: biggest misconception is that concussion and brain injury are two different things. According to the CDC, a concussion is a form of TBI.
(4:00) Second: you need to hit your head and lose consciousness to get a concussion, less than 20% report loss of consciousness.
(5:26) Third: that you need to have multiple symptoms. Symptoms include headache, nausea, vomiting, and mood changes. You only need to have ONE symptom to classify a concussion.
(6:49) Fourth: a helmet or mouth guard will prevent a concussion. They can prevent serious injury, but they can't protect you from a concussion. If your brain moves around in your skull, that can lead to a concussion.
(8:30) Fifth: Concussions resolve themselves in four to six weeks. While 80% might resolve in that timeframe, 20% will have lingering symptoms.
(9:36) Sixth: an MRI can show if you've been concussed or not. MRIs show brain bleeding and shearing, but not concussions.
(11:04) Seventh: Concussions are "mild" TBIs. The mild/moderate/severe scale only diagnoses the symptoms at onset, usually dealing with memory and consciousness. Mild TBIs have a loss of consciousness for less than 30 minutes. This doesn't mean there won't be lingering effects or that symptoms are 'mild.'
(14:34) Eighth: all concussions and recoveries are the same. No two recoveries (or initial incidents) will be the same, people are all very different.
(17:21) Ninth: you have to stay in a quiet, dark room for weeks after the concussion. The CDC revised their statement on treating concussions, stating that you can resume everyday activities as soon as possible, usually after 48 hours. If things start to become too much, back off. Too much rest can make you backslide.
(21:49) Tenth: if you have a concussion, take Ibuprofen or Aspirin. On the off chance you have brain bleeding, these medications will actually make it worse. Tylenol is the better option. Or take nothing.
(29:06) Everything connects to the brain and connected, and that's why functional neurology is so important to recovery: it takes everything into account.
Listen the podcast HERE or subscribe on iTunes
Episode brought to you by Integrated Brain Centers … schedule your FREE consultation online at www.integratedbraincenters.com
Find a Functional Neurologist near you HERE.
Support the podcast for just $5/month on Patreon and receive exclusive content: www.patreon.com/amyzellmer