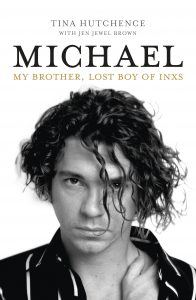 I am so excited to announce the upcoming book by Tina Hutchence, "Michael: My Brother, Lost Boy of INXS" is due out this September and features a quote from ME! 
I was approached by Tina, who is the sister of the late Michael Hutchence – front man and lead singer of INXS – if she could use a quote from one of my articles she had found on Huffington Post.
This news came the morning after I had received a really nasty email from one of my haters, so it really impacted me to know that my work is reaching thousands (if not millions) of people around the entire world.
I am much more emotional since my brain injury, as well as more intuitive. When I started chatting with Tina, I immediately knew I was going to become fast friends with her, and that her work was going to impact SOOO many people, and help create yet another conversation around TBI and how it affects more than 3.5 million Americans each year — and worldwide it is the number one cause of death.
Michael committed suicide in 1997 at the young age of 37. In her book, Tina talks about the challenges he must have faced living with a TBI and taking the stage — with flashing lights and loudsounds — every night on tour.
Read more about Tina and the pre-order herbook HERE.