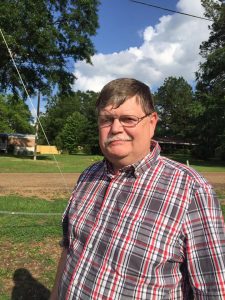 Name: Robert Shivers
Franklin, LA
Date of your TBI: April 20, 1985
How did your TBI happen: Working in a store I was shot in the face during a robbery.
What has been your biggest challenge post-TBI: Learning to walk and talk normally and graduate from college. I also sometimes have trouble with emotions and get depressed along with PTSD.
What has been your biggest blessing post-TBI: Learning to take each day with a good attitude and receiving two college degrees after being told I would never be able to walk or talk again normally much less return to college. I sent the neuro-psych doctor an invitation to y undergraduate graduation.
What is your biggest piece of advice to other TBIers and loved ones: Keep a grateful attitude. I keep a journal (I call it my Golden List) each night of five things I am grateful for that day. I also keep a small rock in my pocket so that each time I feel it I think of something I am grateful for.
What do you do to relax: To relax I read, walk and pray. I also use bio-feedbak techniques when things become overwhelming.
What do you do for fun: Read joke books, laugh at funny movies and volunteer on various committees
What is your least-favorite household chore that stresses you out: washing dishes and clothes