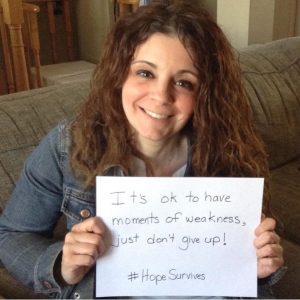 Name: Joanne Ritchey
Toronto, Ontario, Canada
Date of your TBI: December 16, 2011
How did your TBI happen: A metal sign about the size of my hand fell on my head in a store while I was Christmas Shopping.
What has been your biggest challenge post-TBI: Headaches, short term memory loss, limited focus and concentration.
What has been your biggest blessing post-TBI: Finding online TBI support groups and learning about TBI's.
What is your biggest piece of advice to other TBIers and loved ones: Rest. Learn to listen to your symptoms and rest. Loved ones, remind your survivor to rest. Sounds silly, but it easy to forget that your brain needs rest to heal.
What do you do to relax: When I am feeling well enough I go on long walks with my dog. When I need to rest, just sitting on the couch with my pup has been relaxing and healing.
What do you do for fun: It's sounds strange, but I feel like I have forgotten how to have fun. I am working on it.
What is your least-favorite household chore that stresses you out: Putting laundry away. I find it overwhelming to sort and organize the laundry to be put away.