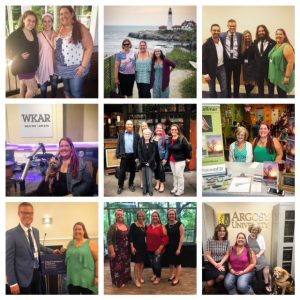 I have just returned from a two-week advocacy trip to the East Coast and wanted to share a recap with you!
I began my journey in Washington, DC at the Federal Interagency Conference on TBI. I was reunited with a few of my fellow Brain Injury Advisory Council members (Anne, Kelly, Cavin, and Josh) and met some folks I had been following, and made some new friends (hi Elizabeth!).
The first day of the conference the Plenary speakers were outstanding! (if you're interested in reading some of my notes, I live tweeted — www.twitter.com/amyzellmer). Day two kicked off with Dr. Jeremy Schmoe and I presenting my case study "Brain Injury and the Vestibular System. (You can watch our video on YouTube.)
After the conference I stayed in the DC area for several days with my friend Toni and her service dog, Bud. I spoke at Argosy University to their Neuro Psychology Doctorate students and had a book signing at a local coffee shop (hi Julie!).
From Virginia I traveled to New England where I stayed with my friend, Amy, for a few days. We took a scenic drive up the Maine coast to look at lighthouses, and met up with another of my fellow Brain Injury Advisory Council members — Carole. She joined us for dinner where we waited out a nasty storm, and she brought me some DELICIOUS Maine strawberries that were in-season.
The next day Amy and I were fortunate enough to have lunch with Dr. Stephanie Mills and her daughter, Brooke. Together these two founded National Concussion Awareness Day, with the third annual coming up on Friday, September 21st! Together we did some brain-storming for a few other events we have coming up this year. These two are doing such amazing things for awareness, and I am grateful they had a few hours to spend with me!!
From New England I made my way to Lansing, MI where I was the opening Keynote speaker at their Brain Injury Symposium of Mid-Michigan, put together by Origami Rehab. These ladies were SO fantastic to work with. They made sure I had everything I needed and were incredibly accommodating and kind! The evening before my presentation, they lined up a radio interview with their local WKAR located on the Michigan University campus (which is GORGEOUS, btw), followed by a tour of their amazing facility!! I am super impressed with their rehab center, and am so grateful to know that such a place exists for those in Michigan dealing with brain injury.
My Keynote was well-received and I had amazing feedback. My favorite comment was from the professional photographer who was hired to photograph the event. He came up to me and told me he had been photographing the event for years, and that my presentation was the most engaging talk he had ever heard at the conference. I take that as quite a compliment!!
After Michigan I headed back home to Saint Paul. Pixxie and I are quite happy to be back home and sleeping in our own bed again!! I feel I accomplished a LOT of advocacy work on this trip, and am already looking forward to my next one this fall!
Thanks for reading my update!!