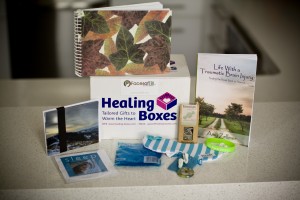 I recently partnered up with one of my beautiful friends from the UK and founder of Healing Boxes, Grace Quantock. She began Healing Boxes in 2012 after a friend was in a car accident and recovering in the hospital. She states:
"Living with a chronic illness, I was bed bound. Although I couldn't visit, I wanted to do something for my friend. I felt helpless in that moment, and it was awful. I was too far away to visit and felt there was little I could do."
Until I realized I could send my support, in a healing, heartwarming box of cheer. It sounded so simple, so obvious. But as I began to search for the right gift, I was utterly disheartened by what little was available and appropriate. A card and flowers was just not enough.
Living with a chronic illness myself, I knew exactly what was needed. So I searched and packaged up a variety of lovingly chosen items that my dear friend would be enjoy and be able to use. The very first Healing Box was born."
Healing Boxes became more than a business, it became a mission. Grace wanted to spread comfort, joy, passion, and love to every person in need. She assembled a board of fantastic people who were passionate about helping others, and formally made Healing Boxes a "Community Interest Company" (CIC). A CIC is a UK-based type of company that is specifically designed to use their profits and assets for the public good and the benefit of the community. Basically, it's a business and charity all rolled into one neat little package, or in her case, a box.
Grace is currently living, and thriving, with an often debilitating illness. She knows firsthand the emotional and physical roller coaster that accompanies diagnosis and life struggle. This is exactly why I knew Grace was the perfect person to partner with for a Traumatic Brain Injury (TBI) Healing Box. Having suffered through a concussion myself, I knew exactly what it was like. You feel alone, isolated, scared, emotional, and mostly you just want someone to reach out to you with love and compassion.
The TBI Healing Box is filled with items lovingly selected by myself and Grace specifically for individuals dealing with Traumatic Brain Injury or Post Concussion Syndrome. All of the items are hand made in the UK and include:
1. Ear plugs, to help keep distracting and overwhelming noises to a minimum.
2. Eye mask, to help with light sensitivity.
3. Ice pack, to help with sore muscles, as well as headaches.
4. Meditation CD, specifically designed to help with sleep
5. Palm Stone, as a reminder of the love and support that was sent your way
6. Teapigs Tea bags, for a comforting and soothing cup of tea
7. Wellness Journal, to journal your recovery, keep track of to-do items, and more!
8. Hand Written note, from myself to you, to encourage you on your journey to recovery
9. A TBI awareness bracelet to wear proudly
10. A code to download a digital version of my book,  "Life With a Traumatic Brain Injury: Finding the Road Back to Normal" 
All of this is lovingly packaged in Wales, UK and delivered to the door of your loved one. Imagine the gratitude they will feel, knowing someone has thought enough to send them this Healing Box, specific to the invisible injury that they are currently feeling overwhelmed and struggling with!!
If you have a loved one you care about but feel:
* you want to do something for them but don't know what to do
* you are scared and frustrated
* you feel out of your league on the scope of their injury
* you don't understand their injury
* you don't live nearby to help or visit
* you want to help, but don't know how
This Box is designed for a loved one you care about, who has either recently suffered a concussion or brain injury, or is still continuing to recover from one (recovery can take years). I personally know the struggle and these are the exact items I have used to help me with my recovery. It is hard to know what to do for someone when it's an invisible injury that you can not see or understand. By sending them a beautiful box full of useful items, designed just for what they are dealing with, you will show them just how much you care.
Best of all, you are not only helping a loved one suffering with TBI, you are also helping to support a community with the purchase of a Healing Box. For more information, please visit: www.healing-boxes.com/tbi