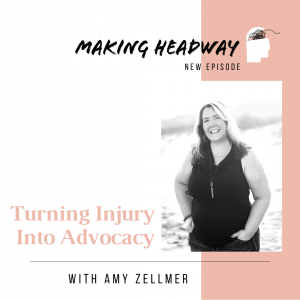 by Ian Hebeisen
Editor-in-chief of the Brain Health Magazine, Amy Zellmer, is no stranger to podcasts — she reached recently her 200th episode of her podcast "Faces of TBI".
Earlier in March, she appeared on an episode of the Making Headway Podcast, hosted by Mariah Morgan and Eryn Martin to talk about her brain injury experience and the path it led her on towards recovery and advocacy.
Amy received her TBI from a fall when she slipped on black ice on her driveway. She immediately knew something was wrong due to her throbbing head and blurry vision. She began suffering from vision problems like nystagmus and focusing issues, as well as other ailments including memory issues and fatigue. She started visiting doctors, neurologists, and chiropractors, each one diagnosing different problems, but none offering long-term solutions.
Chiropractic care helped realign her sternum and alleviated physical pain, and yoga improved her balance. But it wasn't until two and a half years after her initial incident that she discovered functional neurology and began making steps towards recovery.
During this time, Amy wrote an article describing her struggles with her TBI, specifically the troubles she had getting her friends to understand what she was going through. "Tons of friends drifted away… it really, really hurt. They had been there for me when I had a cold, for these inconsequential sicknesses". This article, featured on the Huffington Post, acted as a springboard for advocacy for Zellmer.
Advocacy
Since then, Amy got involved with several brain injury organizations and started attending Brain Injury Awareness Day. She also created the Brain Health Magazine, the Faces of TBI Podcast, and the Concussions Discussions video series. "Everybody has a different way of comprehending after brain injuries… so I really tried to target the different ways of inputting information."
These various platforms are to help raise awareness about the TBI community. Mariah Morgan reflected during the interview that TBIs can come across as invisible. Even functional neurology seems rather unknown compared to normal neurology, which tends to focus on neurological diseases rather than brain injuries. 
While Zellmer does encourage others to serve as an advocate for TBIs, she urges people to stay aware of their own limitations. "You know your body best," says Zellmer, and advises against comparing recovery times to other people. "Some people might take a lot longer to get there… no two injuries are the same, no two recoveries are the same."
A good place to start getting involved as an advocate is with nonprofits, or the Brain Injury Association of America. Most nonprofits are run by a handful of people, so be patient when reaching out. Don't forget to take your time: raising awareness can start with something as simple as explaining your story to a listening ear.
Listen to "Making Headway" on Apple Podcasts, or wherever you get your podcasts. To learn more, visit www.makingheadwaypodcast.com. 
Injury to Advocacy — Podcast highlights
(1:20) Initial fall, hit head,

 

(5:08) Torn muscles, shifted skeletal system, almost broke clavicle
(6:45) Chiropractor turned her towards neurologist, told them to wait it out
(7:30) Vision blurry, not thinking straight
(8:25) Told it was depression, concussion, but not brain injury, told eyes were fine, not given any solutions besides Ritalin
(9:07) Began doing yoga poses, started feeling better (improving balance and mobility)
(10:00) Discovered functional neurology 2.5 years after initial incident
(11:23) Cleared eye stuff up (computer tab analogy: too many tabs open, none will work well)
(11:45) Body was constantly trying to not fall over, once that was cleared up other issues began improving (memory, etc.)
(12:50) Attentiveness to the body dramatically increases
(15:00) People are not finding the answers they need; functional neurology isn't as well-known as it should be
(15:25) The functional neurologist found Amy, started getting results
(17:05) Now doctors rely on imaging, which only shows brain bleeding and sheering, they've stopped doing the more "bedside" techniques that the func-neuros use
(17:56) More tech does not equate to time gained, but skill lost. More tech, less intuition
(19:29) YOU KNOW YOUR BODY BEST, don't let people gaslight or negate your intuition
(20:55) Group of friends who helped when Amy had a cold wasn't taking care of her with a brain injury, Amy wrote an "f-you" post, submitted it to the Huffington Post and heard back within 2 hours.
(22:20) Article got published during photography conference, got applause when she mentioned it, later found her phone blown up with messages
(24:26) Created "Amy's TBI Tribe" Facebook group where people can ask questions and such
(26:10) Every 9 seconds, someone has a brain injury (someone in the U.S.?)
(26:30) HuffPost served as sort of a first wave for func-neuro awareness and brain injury awareness
(28:26) Published 2 books: first consisted of about 14-15 HuffPost articles, second was about functional neurology and the next 14-15 HuffPost articles
(31:00) Started podcasting in 2016, originally one of the first podcasts about brain injuries, now has 200 episodes with people asking to be featured.
(32:55) Podcast=reminder you aren't alone, TBIs can seem invisible and this raises awareness and solidarity
(34:20) Did a GoFundMe to get money to fly out for Brain Injury Awareness Day, found out each state has a chapter, Amy got involved with the Minnesota Branch (meet with legislators, meet on Tuesdays, pushed to get emergency contacts on driver's licenses)
(36:06) Went to DC to lobby for Healthcare, protect the ACA
(37:03) People keep trying to reinvent the wheel, just try and connect with local advocacy groups (BIAUSA.org, Brain Injury Association of America).

 

(38:04) KNOW YOUR OWN LIMITATIONS, you're still recovering. You can start by writing your own story, or guest-starring on a podcast, baby-steps.
(41:04) Eryn: "You're never not going to be able to function without mindfulness".
(41:30) Mariah: has moments where she's like "I'm beyond this" but then has moments when they realize they're still going through it. Can have imposter syndrome, where you're like "at least I'm not like that, did I ever belong?", says you never really leave the community.
(45:20) You only see Amy's highlight reel, you don't see her hardships. Builds in recovery days while traveling, doesn't work full days, etc. Learned how to manage energy and workload. DON'T COMPARE YOUR RECOVERY TO OTHERS.
(44:03) Nonprofits are usually run by a couple of people, so be patient.
(48:45) March 16th (Amy's Birthday)=Virtual Brain Injury Awareness Day event, free, 30 speakers (Holly Castresiti), some of the cast from Quiet Explosions (q&a), facesoftbi.com/event
(49:36) March 22nd=launch of season 2 of Concussion Discussions video series, free event, concussiondiscussions.com
(50:52) Insta/FB=@amyzellmer, facesoftbi
(51:31) HuffPost (article) to Podcast (audio) to Concussion Discussions (visual/video)=trying to create different ways for people to digest info since each person processes things differently
Ian Hebeisen graduated from Saint Mary's University in May 2020, earning a degree in Literature with a Writing Emphasis. Now living in the Twin Cities, Ian writes comics, graphic novels, and poetry. In his spare time, he enjoys playing board games with his family.