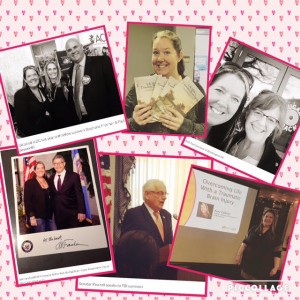 My trip to DC is to educate, advocate, and raise awareness about Brain Injuries, and is supposed to start in just 10 days!
We still have quite a ways to go, and I really need your help spreading the word!
I'd like to share some facts about the trip. Although it's long please take a minute to read.
I will be speaking at or attending:
1) Brain Injury Association of VA Conf Richmond 3/5
2) Petersburg VA TBI support group 3/8
3) Brain Injury Services Recovery Group 3/9
4) BIS Volunteer Banquet 3/9
5) Brain Matters Cog Rehab group- all 4 groups 3/10
6) The Tribe get together and meet with press 3/14
7) Argosy University Neuropsychology doctorate students 3/15
8) Dinner and "Beyond Laughter and Tears" preview with TBI survivors from around the country in town for event on Capitol Hill and with congressional members and staff 3/15
9) Capitol Hill Brain Injury Awareness Day 3/16
10) Brain Injury Services Adapt Clubhouse 3/17
11) Community Systems Kraft Klub 3/17
12) Trauma Support Network INOVA Fairfax Hospital 3/18
13) Individual meeting with congress people (Including Al Franken & Amy Klobuchar)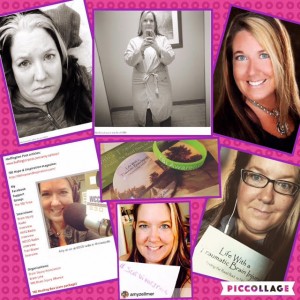 My Costs include:
1) Gas from MN to VA and to all of speaking engagements and back home
2) Hotel from Mar 3 (2 days to drive) thru Mar 21 (including 2 days to drive)
3) Food for the entire time –
I'm staying in lower cost hotels that have fridge, microwave, free breakfast to save money.
4) I still will need to pay rent at home even though I'm taking off work and I don't get paid if I'm not working.
5) GoFundMe and WePay take almost 10% in fees
Things to consider:
1) I get paid for none of this, I do it because I care!
2) The exposure and information gained will benefit all of those with TBIs
3) The "price" I will pay after this long trip to recover will take many, many days.
4) I'm willing to do this for YOU…will YOU help make it possible.
Please consider donating to my go fund me campaign to make this possible AND share on your personal pages with a message how important awareness is to you.
DONATE HERE: gofund.me/xfjngha4