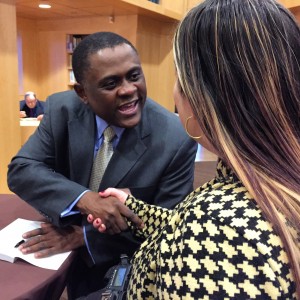 Last night I had the experience of a lifetime meeting Dr. Bennet Omalu at the Beth El Synagogue here in the Twin Cities!
Omalu is portrayed by Will Smith in the movie "Concussion" which is a true story of Dr. Omalu and his journey in discovering CTE and taking on the NFL over the dangers of repetitive head trauma.
I was able to shake his hand and have him autograph a book for me. His smile is genuine, and he has a laugh that can make even the Grinch smile!
Throughout the evening he commented on how we are intelligent Americans, and intentionally hitting our heads in a game is just not intelligent. There are many false assumptions that simply wearing a helmet will help prevent head injuries…. even though we know this is not true as we watch NFL players repeatedly endure CTE.
He also addressed the issue of youth sports, and that is our responsibility to ensure their safety. We do not allow children to smoke until 18, drive until 16, drink until 21…. yet we allow them to endure repetitive head trauma as young as 8 years old….. where is the intelligence in this thinking?
Bennet is a dynamic and passionate speaker, and I am so blessed to have had the opportunity to hear him speak.
*More to come…. stay tuned!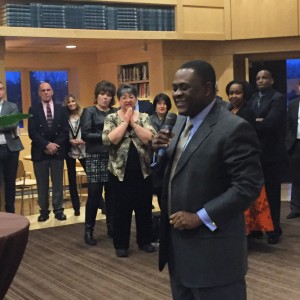 Amy Zellmer is an advocate for TBI awareness and frequently contributes to the Huffington Post. She also recently published her first book "Life With a Traumatic Brain Injury: Finding the Road Back to Normal". She currently has a GoFundMe campaign to raise funds to speak in Washington DC for Brain Injury Awareness Day on Capitol Hill.