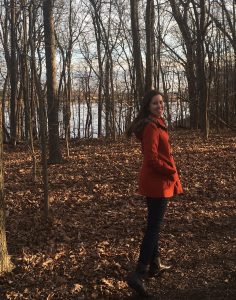 Name: Ellen Marie
St. Louis, MO
Date of your TBI: 07/23/2016
How did your TBI happen: I fainted and hit my head on concrete.
What has been your biggest challenge post-TBI: Learning to take breaks and accept them as a necessary part of healing has been a big challenge for me. Coping with my pain has also been a huge challenge for me.
What has been your biggest blessing post-TBI: My biggest blessing has been the support of my family and friends. They are some of the best people in the world, hands down.
What is your biggest piece of advice to other TBIers and loved ones: Don't sweat the small stuff. Even small things can be difficult with a brain injury. It's really easy to get frustrated with this. Instead, try to focus on what you can do, even if it's a really small thing.
What do you do to relax: To relax, I'll listen to podcasts, do yoga, or drink coffee.
What do you do for fun: The epitome of fun for me right now is watching Married at First Sight, hanging out with friends, or reading books
What is your least-favorite household chore that stresses you out: All of them. Cleaning and laundry all involve moving around a lot in circles, which fatigues me.
Would YOU like to be featured on our blog?? Fill out this online form: https://goo.gl/forms/hgDam3WzvFrNQOaV2