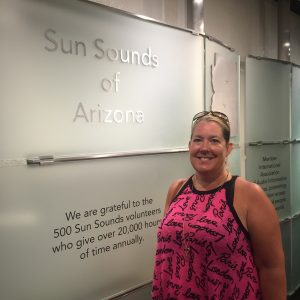 You may recall that this summer I took a month long roadtrip to the West coast. While I was in Arizona, I had the pleasure to go into the Sun Cloud Studios and record an interview with host Judy.
We talked for 30 minutes about my book, my advocacy efforts, how to help someone with a TBI, and so much more. The interview finally aired this month, and it turned out absolutely AMAZING! I am totally impressed with how it turned out, and of course, I didn't remember a thing we had talked about LOL so it was great to finally hear it!
There are a few notable shout-outs in the interview: 
Dr. Fred
Healing Boxes
Miss Oregon — Ali Wallace
My book Editor — Connie Anderson
The TBI Tribe 
LISTEN to the interview:
A huge thank you to everyone at Sun Cloud Studios who made this interview possible, and to Ronda at We're Moving Forward for driving me to all of my appointments while I was in the Phoenix area!! As well as to the Arizona Brain Injury Alliance for their support. I had a truly wonderful experience, and can't wait to visit again!
Really funny side-note: In the interview (which was taped in July) she asked me if I had plans for a 2nd book. At the time, I did — but it was a totally different idea than what actually manifested in August!! Who knew the wild ride I was about to embark on with the Anthology!!