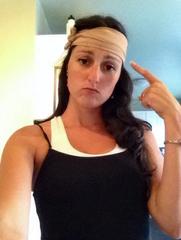 Name: May Mutter
Canada
www.Caged-Mind.com
Date of your TBI: Feb 2013 (x4)
How did your TBI happen: Curling feb 1 – slipped on ice and hit head on curling rock Volleyball x2 feb 14 – spiked in the head, hit hard floor Volleyball feb 21 – continued playing, doctors say just the movement and diving around at that point caused another one.
What has been your biggest challenge post-TBI: Adapting to the new life and coming to terms with not being able to do what I used to do: work, social life, sports, most hobbies
What has been your biggest blessing post-TBI: Making the most of it and raising awareness through A Caged Mind Facebook.com/thecagedmind
What is your biggest piece of advice to other TBIers and loved ones: Communication, compassion, and compromise. Always talk about everything, even if you're talked about it a million times before – both from the perspective of a TBIer and loved one. You have to understand what both are feeling in order to overcome this. As someone who's dealing with people with concussions daily, I've seen a lot of break ups, and have come close to one myself, but it's all about understanding what you're BOTH feeling. And lastly: compromise. If, say, you two were social butterflies before, you can't hole up and not emerge because of symptoms. I believe you need to compromise and do what you can handle, but to avoid going stir crazy, every once in a while do something fun even if it takes a few days to recover. I have found the headaches and symptoms are worth it for a week knowing I had a blast on Saturday night and so did my family. Don't push it – pace, but don't hole up entirely afraid of the world. It takes a while to get there, but don't give up.
What do you do to relax: Yoga. A lot of restorative yoga and meditation. I also cook – I find the process is soothing even when I screw up consistently.
What do you do for fun: Board games. I have a few friends who come for dinner and know to take it easy on me, and I find board games are the easiest on my head (it also keeps everyone fairly quiet as they're focusing on the game) so it's not overwhelming.
What is your least-favorite household chore that stresses you out: Washing floors and tubs. It's a lot of back and forth movement and pressure. I do, however, enjoy the washing dishes and cleaning up the kitchen the day AFTER a messy dinner as it's slow and calming.