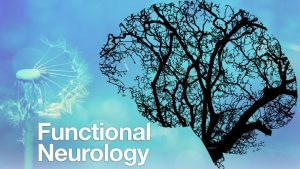 A functional neurologist is a type of doctor, typically a Chiropractor with a DACND credential, who specializes in treating neurological conditions and disorders through targeted exercises and other non-invasive therapies. They are also sometimes called a Chiropractic Neurologist.
They aim to improve the functioning of the nervous system, including the brain, and help patients recover from conditions like traumatic brain injury (TBI), stroke, or other neurological conditions. 
By using techniques like eye movements, sensory stimulation, and manual therapy, a functional neurologist can help stimulate neural pathways and improve brain function. 
This approach is often used in conjunction with traditional medical treatments to optimize outcomes and improve quality of life for patients with brain injuries.
Primary benefits of seeing a functional neurologist:
Relief from neurological symptoms

Better movement coordination

Improved balance and posture

Enhanced sensory processing

Better overall health and wellness.
Why is it hard to  find a functional neurologist near me:
Functional neurology is a relatively new and specialized field within neurology, so it may not be widely available in all areas. Here are some reasons why you may not be able to find a functional neurologist near you:
Lack of availability: There simply may not be a functional neurologist in your area.

Narrow specialty: Some functional neurologists only treat specific conditions or have a limited patient population, so they may not take new patients.

Limited recognition: Depending on your location, functional neurology may not be a widely recognized or accepted form of treatment, and therefore, there may not be many practitioners available.
If you're having trouble finding a functional neurologist near you, you can consider reaching out to national organizations like the American Chiropractic Association (ACA) or the International Association of Functional Neurology and Rehabilitation (IAFNR) for a referral. 
Additionally, you could consider traveling to functional neurologists in nearby cities or towns and doing a week-long intensive. 
If you are interested in learning more and receiving a free 15 minute phone consult with Dr. Shane Steadman or Dr. Perry Maynard, you can fill out this form:
https://facesoftbi.com/doctor-guide/
Join the TBI Insiders community for exclusive content and support my work for just $8/month:
www.patreon.com/amyzellmer