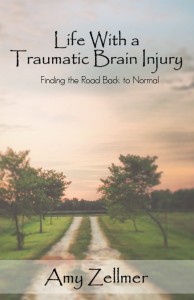 "Traumatic brain injury causes your world to implode. The effects of TBI are far-reaching and long term; touching every imaginable part of your life, the lives of those you love and those who love you. Amy weaves her own story and the stories of others who have sustained a TBI with important education that provides both help and hope."
~ Lee Woodruff, New York Times #1 bestselling author and contributor, "CBS This Morning"
FOR IMMEDIATE RELEASE:
Traumatic Brain Injury (TBI) is the leading cause of death and disability in children and adults from ages one to 44, according to the Brain Trauma Foundation. You don't need to be in a serious car accident or injured in a sport to suffer a TBI. Simply slipping on a patch of ice can cause a traumatic brain injury and alter your life in the blink of an eye, which is exactly what happened to Amy Zellmer.
TBI can happen to anyone, it does not discriminate. Lives are forever changed by a simple fall, car accident, sports injury, or assault. With the upcoming, Christmas Day release of the movie "Concussion" starring Will Smith, finally some light is being shed on a topic that has been overlooked, brushed off, and misdiagnosed for too long—a concussion or a traumatic brain injury (TBI).
Amy says, "I am elated with the movie's title, because during my own recovery I was told more times than I can count 'it's just a concussion,' which is simply not true; all concussions are a brain injury, to come extent."
Saint Paul author, Amy Zellmer's, new book "Life With a Traumatic Brain Injury: Finding the Road Back to Normal," is a collection of short stories. Most were originally published on The Huffington Post, in an effort to bring awareness to the seriousness of concussions and traumatic brain injury (TBI). Amy's goal is to shed new light on this invisible injury that affects so many. Her book is a "handbook" of sorts for: 1) TBI survivors, 2) Caregivers and loved ones, and 3) Medical professionals. Reading about Amy's journey through life with a TBI, you will gain an understanding of what it's like to forget how to use the microwave, or get lost driving to familiar places. You will receive insight into ways to help a loved one who is struggling with a TBI.
Chances are you or someone you know has been affected by TBI. This book is a way to help you understand, and not feel alone in your journey.
• Every 13 seconds someone in the United States will suffer a TBI. Every single concussion is a brain injury, to some extent.
• Over 2.5 million people annually will enter the lonely world of TBI, which is often misunderstood, undiagnosed, and overlooked in severity.
• In this past year alone, seven high school boys have died from "seemingly normal" tackles during football games.
• NFL rookies have retired because they felt the risk was too great, while others committed suicide. • Many TBIs are the result of slip, falls and auto accidents.
Amy is a professional photographer, writer, and creative coach living in Saint Paul, MN with her Yorkie, Pixxie.
In 2014 she suffered a Traumatic Brain Injury (TBI), and is presently volunteering and advocating for TBI Awareness around the world.
She was recently elected to the Minnesota TBI Advisory committee and also sits on the Brain Injury Association of America's Ambassador's Council. In addition, she is also actively involved with the Minnesota Brain Injury Alliance.
Amy has been interviewed on several radio shows across the country, and frequently contributes to the Huffington Post about TBI. She recently created an online community for TBI survivors as well as caregivers and loved ones. The group has grown to over 3,000 members in just six short months.
LINKS:
– You can listen to a radio interview I did with a station out of Portland: http://facesoftbi.com/wp-content/uploads/2015/06/Rose-City-Forum-Amy-Zellmer-on-traumatic-brain-injury.mp3
– and an interview with Roshini on WCCO radio: http://bit.ly/1I58Pfo
MEDIA TESTIMONIAL:
"Amy Zellmer is such a passionate voice for traumatic brain syndrome. She shares her personal story authentically and in a way that moves people to think about prevention. As a guest on my radio show, her openness with responding to questions frankly and her willingness to comfort callers, who shared their own TBI stories, was inspiring. She is a true advocate–with a self-less pursuit to help others and enlighten about this tragic condition. I'd gladly invite her back to my show and recommend her to other media."
~ Roshini Rajkumar ~ Host & Co-Producer, News & Views with Roshini Rajkumar, WCCO (CBS) Radio